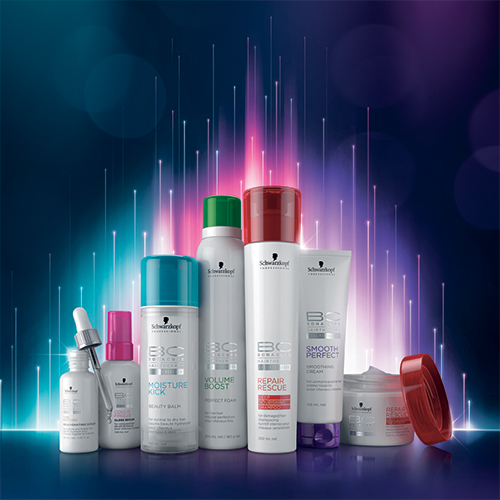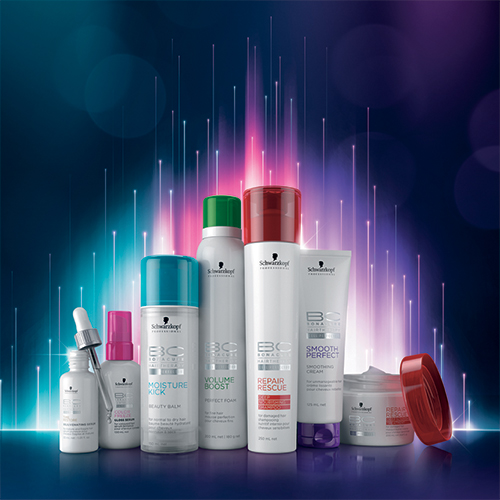 Schwarzkopf recently relaunched their BC Hairtherapy range, which now includes seven hair care lines, each with specific formulas and ingredients specially selected for the hair care needs of different hair types. The secret to the new BC Hairtherapy range is Cell Perfector Technology, which replenishes the surface of the hair and rebuilds the hair structure, leaving you with the healthiest, happiest head of hair you've ever experienced. I'm not going to go into the exact details of how the ingredients work – it's all very scientific and a bit confusing, but if you do want more details, let me know and I will do a follow up post. In the meantime, let's have a little look see at the products we were sent to try…
Repair Rescue Shampoo and Conditioner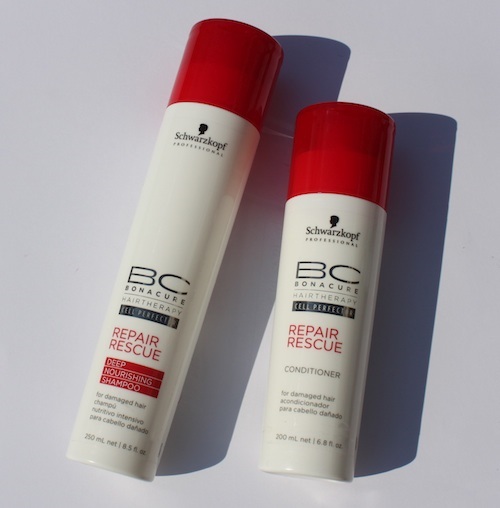 The Repair Rescue line is aimed at those with damaged, distressed hair. Hello! That's me! I use heat on a daily basis so I have to make sure I take really good care of my hair and smother it with every nourishing, caring product I can get my hands on. This shampoo and conditioner contain a high concentration of hydrolyzed keratin proteins which restore the protective layer of the hair. Keratin proteins are the strongest of the proteins found in hair products, and when they have been hydrolyzed, it means they  are small enough to go beyond the cuticle and penetrate the hair shaft and actively reduce damage. These products also contain amino acids which rebuild the structure of the hair from the inside, restoring strength and elasticity as well as adding vital moisture.
I have really been enjoying this shampoo and conditioner combination. The shampoo feels nourishing without being heavy, and the conditioner definitely injects some much needed moisture back into my locks. My hair feels soft and healthy, and looks relatively shiny (I hope). I also really love that the shampoo is bigger than the conditioner. If, like me, you shampoo twice and condition once, your shampoo always runs out way before your conditioner. Not so with this duo! Clever Schwarzkopf.
Retails for R215 for 250ml.
Repair Rescue Deep Nourishing Treatment
This is the reconstructing treatment also forms part of the Repair Rescue range. I like it because you don't have to leave it on for ages in order to get the benefit – a quick 5-10 minutes is all it takes. I usually just pop it on while I'm in the shower and then shave/exfoliate/wash my face and by the time all that is done, I can rinse it out (you're supposed to apply it to towel-dried hair but seriously, I don't have time for that). It's designed to be used once or twice a week and it's very easy to slot into your normal haircare routine. It smells good and it works like a bomb, despite being applied on wet hair instead of towel-dried hair…imagine how good it would be if I actually followed the instructions!
Retails for R310 for 200ml.
Volume Boost Perfect Foam
Every time I have used this product, people have commented on my hair – that's a sign of a top quality product! This volumising foam is incredibly lightweight so it won't weigh your hair down at all, and it's completely silicone free so it don't leave your roots looking greasy. I massage the foam into my roots, tip my head upside down and then blast my roots with a hairdryer for a little bit. I then proceed to blowdry my hair as normal (I apply the Moisture Kick Beauty Balm to the lengths and ends) and by the time I'm finished, I've got some seriously good volume going on at the crown. Hello, Rich Girl Hair!
Retails for R260 for 200ml.
Moisture Kick Beauty Balm
The Moisture Kick range is aimed at those with normal to dry, wavy or curly hair that's coarse or brittle, lacking elasticity and bounce. Yup, that's me again! This styling balm contains a derivative of hyaluronic acid which rebalances the moisture levels of the hair, together with the aforementioned Cell Perfector Technology to smooth the surface of the hair, leaving it more supple, manageable and shiny. This is probably my favourite product out of everything we were sent – it really is fantastic. It acts as a heat protector too, so I pop it onto my damp hair before I blowdry my hair and it helps save my hair from the devil hotness of my Parlux. It helps smooth frizz, tames flyaways and just generally leaves the hair looking bouncy and healthy.
Retails for R260 for 150ml.
Time Restore Rejuvenating Serum
This serum is designed for mature hair that has lost strength or moisture, leaving it weak, dry or brittle. This serum promises to give mature hair renewed strength and helps restore the scalp's elasticity. You apply it to your scalp and hair after shampooing once or twice a week and in time you should notice an improvement in the condition of your hair. Despite being 31, I wouldn't classify myself as "mature" so I am going to pass this on to my mom and see what she thinks of it – she colours her hair every three weeks so I think she would really see the benefit of a product like this.
Retails for R260 for 30ml.
All in all, I would highly recommend all of the products we received from BC Hairtherapy. As I mentioned earlier, the range is incredibly comprehensive and has products which cater for each and every haircare concern, so even if the products I have reviewed don't float your boat (rude), you will definitely be able to find something within the full range that does. For more information, you can check out the BC Hairtherapy website here.