Between regular weekends away, trips to the gym and the odd holiday, I find myself packing, unpacking and re-packing my toiletry bag all too regularly. Tedious tasks like these really push my buttons to I decided to create a dedicated beauty kit that I could literally throw in my bag and go. Many of the products are dictated by convenience (i.e. what I happen to have in a smaller size) rather than preference, but for important things like my serum and moisturiser, I tend to use my favourites. The kit contains miniature hair goodies, travel-friendly skincare, some shower essentials and a few emergency items – here are the details: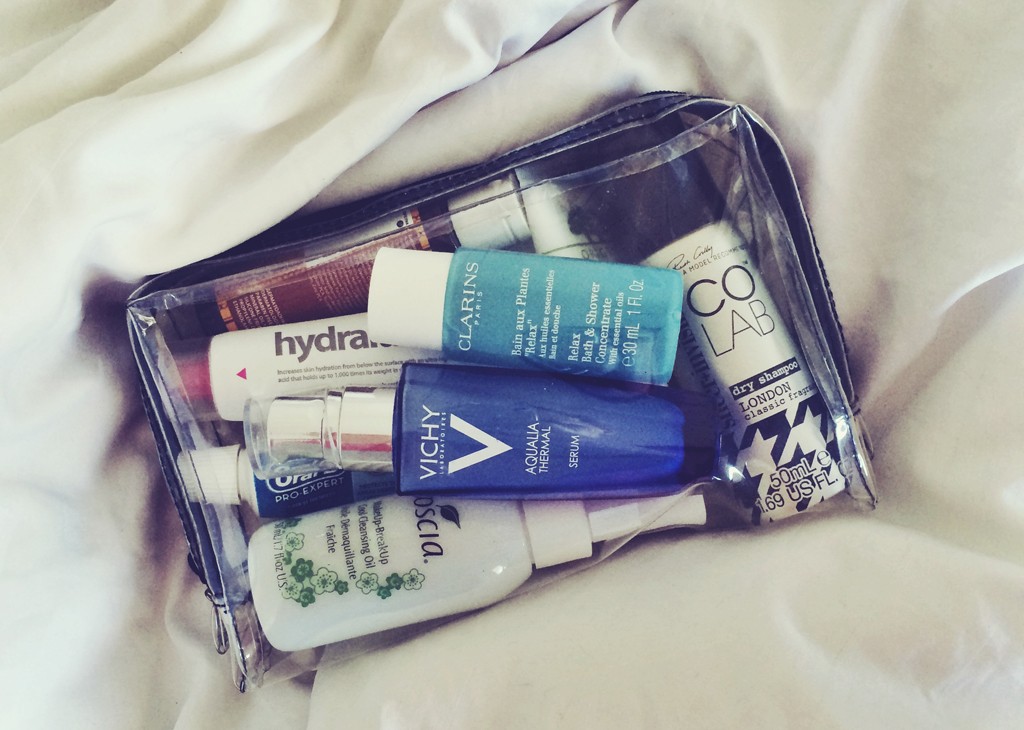 Shower
I tend to collect little bottles of shampoo and/or conditioner from hotels I stay in (no judgies) so that I have a stash of minis to travel with. I'm not particularly fussy about which brand it is because it only has to work for one or two washes at a time. At the moment I'm using LUSH Seanik solid shampoo because it doesn't leak and is easy to cart around, and a Korres Aloe & Dittany conditioner from a hotel in Greece.
The bag also holds my handy little battery-operated sonic toothbrush from Slim Sonic and a sample of my favourite Oral-B Pro Expert toothpaste that I get from my dentist. Next is a small shower gel; this Clarins Relax Bath & Shower Concentrate was from a recent gift-with-purchase (another great way to score useful travel-size products).
Skin
For make-up removal I pack a small bottle of the Boscia MakeUp-BreakUp Cool Cleansing Oil which I got from Sephora. When this is finished I fully intend to re-use the container for my Body Shop Camomile Silky Cleansing Oil but decanting your micellar water into a little travel-size bottle is also a great alternative. In the mornings or for a second cleanse after taking off my makeup I use whatever samples or minis I have lying around; right now it's the Origins Checks and Balances Frothy Face Wash (which I'm actually not a big fan of, it's quite drying).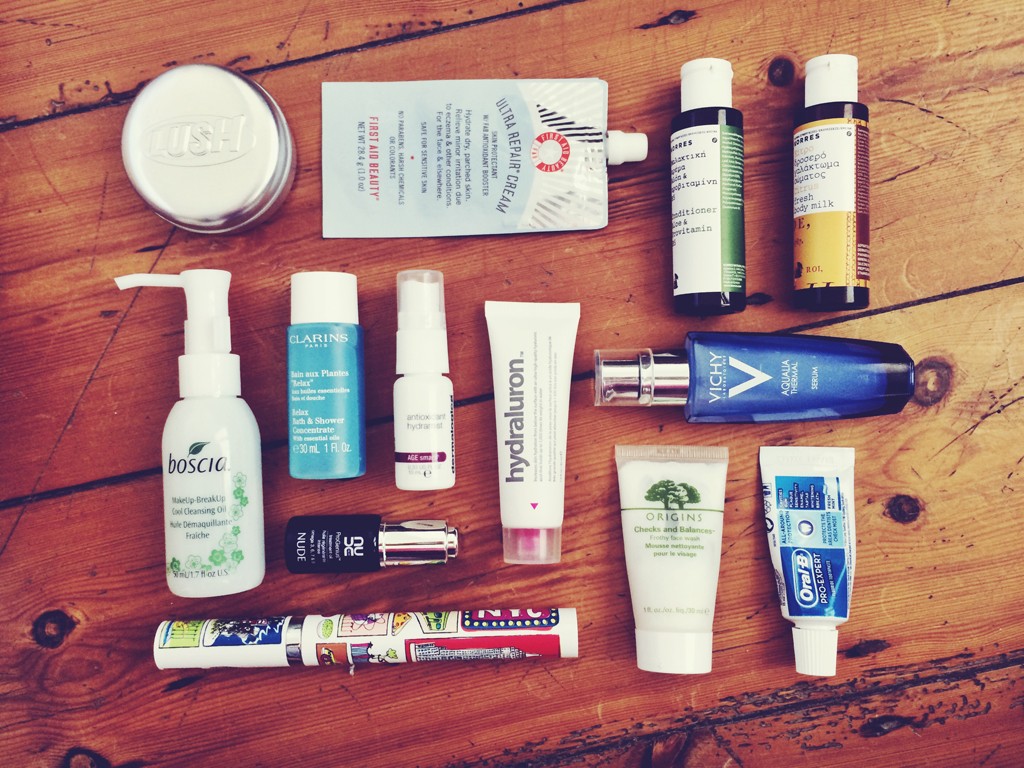 Once my skin is clean, I layer on my usual concoction of Vichy Aqualia Thermal Dynamic Hydration Serum, Hydraluron and First Aid Beauty Ultra Repair Cream, which I happen to have in a little trial pack. For night-time I have a deluxe sample of the NUDE Pro-Genius Treatment Oil that came in a beauty box, but again I'll swap this out for something like my Kiehl's Midnight Recovery Concentrate once it's finished.
I also keep a little sample-size bottle of Dermalogica Antioxidant Hydramist in the bag which you can reuse for any toner once it's done. For my body, I use hotel body lotions like this Korres Citrus Body Milk but the mini tubs of The Body Shop Body Butters are also an awesome travel beauty bag addition. Lip balm is an absolute essential no matter where I go – I literally have them scattered throughout my life – on my desk, in my car, next to my bed, on my dressing table, in the bathroom, in my handbag and in my travel kit. For the latter, I'm currently using a little tin of Elizabeth Arden Eight Hour Cream that I bought in Duty Free a while ago.
Emergency
Last but not least, I manage to cram in some practical items like tampons, an Invisibobble, a pair of tweezers, some nail clippers and a mini dry shampoo.
There are a few things that don't fit into this bag (which is from Muji btw), like my deoderant and my Tangle Teezer, but for the most part it covers all my bases. Is there anything else you would include?