Waking up the morning after the Oscars is always very exciting because I LOVE seeing all the beautiful gowns and glamorous hair and make-up looks worn by my favourite stars. This year, the overall feeling was quite classic and romantic, and the ladies of the A-list were particularly well turned out in plenty of nude lips and bedroom eyes. Here are my four favourites and one serious un-favourite: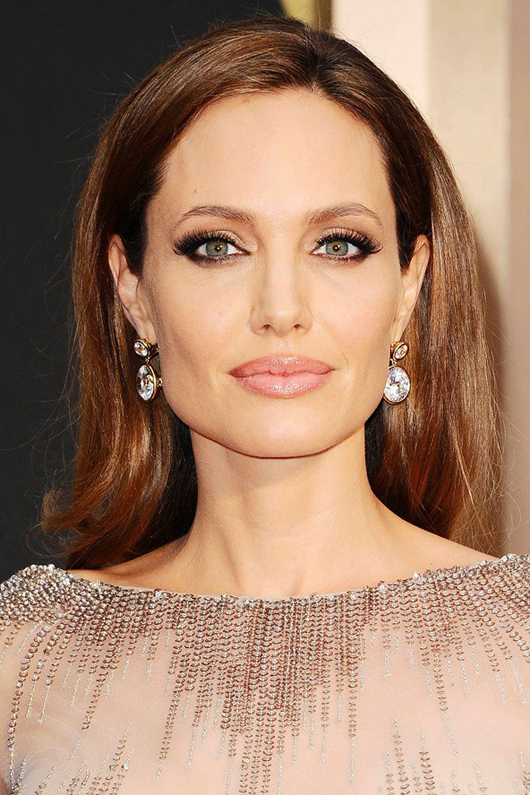 I mean, I don't even know where to start. I haven't always been a huge fan of Angelina Jolie but in the past few years she has really softened her look and is, in my opinion, looking just gorgeous. She does have a serious advantage in that her bone structure and facial features are naturally flattering, but she also knows how to play them up without looking like a tranny. I especially love the dark liner and full lashes paired with natural brows and only the slightest hint of blush – a perfectly balanced face if ever there was one.
Behold Cate Blanchett, reigning Queen of the Red Carpet. Those iridescent earrings are rocking my world big time, but the real star of the show is her soft, simple make-up paired with an ethereal, embellished dress. She plays up her blonde hair and fair complexion with the perfect peachy-pink cheek-and-lip combo, and the lightest coating of mascara on her top lashes. The whole look is opalescent and youthful; I would be thrilled to look half as good as this at 44.
Olivia Wilde genetic gifts are considerable – that jawline! those eyes! the perfect nose! What a babe. I love this 60-inspired look: the classic black cat eye (accented with a clever tick of white eyeliner to sharpen up the tail) paired with a matte, soft pink lip is retro perfection. A few falsies at the outer corners help to wing out the eye even more and the bare lower lashes keep the look chic and sophisticated.
This woman is a complete goddess. Not one for particularly adventurous make-up, Kate Hudson always sticks to what she knows and it certainly works for her. The side-swept Veronica Lake waves and sultry make-up are the perfect complement to that stunning beaded gown and scene-stealing neckline. The feline shape of the smokey eye draws attention to her best feature and gives a modern spin to an otherwise quite elegant, Old Hollywood-style look.
Oh, Margot Robbie. What were you thinking? Having seen her nearly steal the show in The Wolf of Wall Street and About Time this year, I was very interested to see what she would bring to the red carpet in awards season. I can forgive the dark hair (which is apparently for a role) but there is absolutely nothing else redeeming about this look. The make-up is as boring and unflattering as her dress, and highlights none of her considerable natural beauty. The Duchess of Bay Ridge would be appalled.
So, who gets your vote?
Photos via Beauty Editor and GlamourMagazine.co.uk.