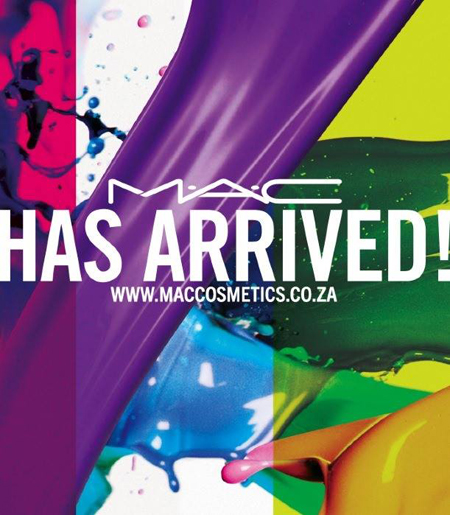 If you follow us on Twitter and Instagram then you might have seen us mention the new MAC South Africa e-commerce store which went live last week. We're both big fans of MAC but stock control has never been one of their strong points, so the fact that you can now shop online is music to our ears! It's also so handy to be able to browse shades, formulations and prices without being bothered by a shop assistant.
If you are a make-up newbie or don't have any MAC products yet then these are the ones I would recommend checking out:
Eyeshadows – not the cheapest ones around but great for basic colours that will last you forever.
Shade recommendations: Brule (soft creamy-beige), Naked Lunch (pinky champagne), Satin Taupe (shimmery plum-taupe), Patina (antique brown with golden pearl), Woodwinked (warm bronze)
Paint Pots – creaseless cream eyeshadows that make the perfect base for powder shadow or an easy one-step eye.
Shade recommendations: Painterly (matte nude beige), Bare Study (champagne), Groundwork (neutral taupe), Constructivist (dark metallic brown), Rubenesque (golden peach)
Lipsticks – probably MAC's most famous and consistent product range. Heavily pigmented, great staying power and a shade for every mood.
Shade recommendations: Russian Red (matte blue-based red), Syrup (plummy pink – your lips but better), Impassioned (bright fuchsia), Viva Glam V (neutral pearly pink)
Cleanse-Off Oil – a gentle, oil-based makeup remover suitable for all skin types. Gets your make-up off quickly and rinses off easily without leaving any residue behind. Highly recommended.
Prep+Prime Transparent Finishing Powder – a silky, perfectly invisible finishing powder for setting concealer or eliminating shine all over the face (I use the pressed version).
217 Blending Brush – If you buy one thing from MAC, this has to be it: hands down the best eyeshadow brush in the world.
Eyebrow Pencils – skinny self-propelling pencils that give the perfect natural shape, colour and density to your brows.
Mineralize Skinfinish – my favourite powder highlighter for contouring the cheekbones and adding a healthy sheen to the skin.
Shade recommendations: Soft and Gentle, Lightscapade, Porcelain Pink (limited edition)
What are your favourite MAC products?