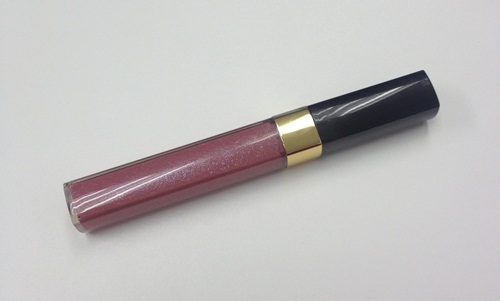 As you will no doubt have realised by now, over at All Dolled Up we're more into lipsticks than glosses. However, there are times when a girl just needs a bit of gloss…enter Chanel Glossimer in Wild Rose.
It's a beautiful pinky colour with subtle flecks of shimmer, it's the quintessential "my lips but better" shade. It looks quite pigmented in the bottle, but is far softer on the lips – very elegant and sophisticated.
The texture is lovely – not sticky or tacky (my worst – Juicy Tube, I'm looking at you). It glides onto the lip easily and has good staying power – a good few hours at  least. Obviously if you are eating or drinking you're going to need to reapply more frequently, but for the most part it stays put like a dream.
Another plus: it comes with a doe foot applicator. Hurrah! I feel so sad whenever I see a girl trying to apply lipgloss with a brush applicator – it just doesn't work! The brush bristles always go rouge and you end up with lipgloss all over your face. Ain't nobody got time for that!
I would love to show you how Wild Rose looks on my lips, but I've got a blemish situation going on, so my arm will have to do:
Available from Edgars Red Square for R305.
Images by me.