By now you probably know that Camilla and I are huge fans of the gals at Pixiwoo. Sam Chapman, one of the sisters that make up the dynamic duo, has her own line of high-quality make-up brushes under the name Real Techniques. Sam has been a pro make-up artist for over 15 years and, together with sister Nic, boasts nearly one million YouTube subscribers. People like me eagerly await their twice-weekly uploads for great make-up tutorials and product reviews.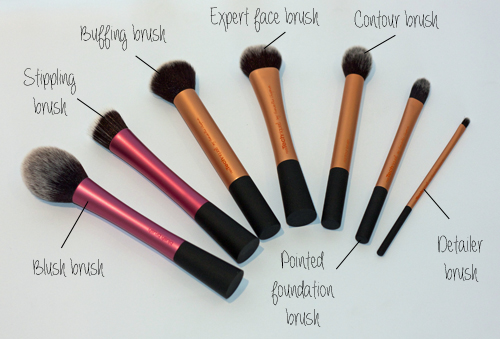 With all this experience and beauty knowledge, Sam's range of brushes was always going to be fantastic and I have not been disappointed. Not only do they work like a dream but they're affordable and you can now get them shipped to SA.
A bit about the line
The bristles are made from an ultra-plush, synthetic material called Taklon that is 100% cruelty-free. The soft fibers help create a flawless, high-definition finish in any type of light.
The color-coded system corresponds to the key steps of makeup application so they're easy to use. Brush names on the handles also make for easy reference when creating your favourite look.
Each brush head is hand-cut to the perfect shape, allowing for precise application from dense coverage to a soft, delicate finish.
The collection is suitable for a wide range of products and every makeup need – from powders, creams, and liquids to mineral makeup, highlighter, and shimmer. Natural-hair brushes absorb liquid and cream products, which can make application uneven and is why synthetic brushes are more versatile.
My favourites
I have almost the full complement of Real Techniques brushes because I've been so impressed with them. Here are my favourites:
Buffing brush
The best foundation brush I've ever used, this brush allows for smooth, flawless application of any kind of base – liquid, cream or powder. Comes as part of the Core Collection which costs approx. £20 and includes four excellent face brushes.
Stippling brush
Dual-fibre brush that gives even, light coverage when used for foundation and also great for applying cream blush without disturbing the base underneath.
Blush brush
A big, fluffy brush with a slightly tapered tip that deposits the perfect amount of product while the surrounding bristles softly blend it out. I use it for blush and bronzer but it also makes a great powder brush for all over mattifying.
You can buy Real Techniques brushes from Boots.com or Feel Unique and Look Fantastic, both of whom offer FREE worldwide delivery. I also highly recommend subscribing to their YouTube channel and following Nic and Sam on Twitter.
Image 1 by me and 2 via.