So, you're planning a trip to London and you've taken an empty suitcase to fill with high street beauty presents to yourself (no, just me?) but you're not sure where to start? To give you some direction, here's a list of all the things I've bought and loved from Boots and Superdrug, many of which are regularly repurchased: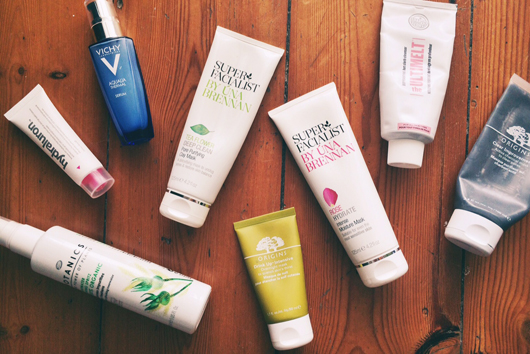 Skincare
Hydraluron Moisture Booster – I have three backups of this, that's how much I love it. Hydraluron was available at Clicks until recently so now I have to get it overseas, but it's an amazing product for dehydrated skin like mine. You layer it under moisturiser and it helps to trap water in the superficial layers of your skin, making it smooth, plump and beautifully hydrated.
Soap & Glory The Ultimelt Hot Cloth Cleanser – I was looking for a travel-friendly cleansing balm (my Emma Hardie Moringa Cleansing Balm doesn't do well in a suitcase) and picked this up one day because it came in a handy tube rather than a pot. The formula is also more of a thick cream than an oily balm, but it does the trick of giving the skin a deep clean and leaving it smooth and soft afterwards.
Soap & Glory Sugar Crush Scrub and Shower Gel – if you're a fan of sweet 'n sour scents and you like a good pamper product, then this stuff is for you! It smells good enough to eat and the fragrance is really zingy and invigorating; perfect for a morning shower. The body wash is really creamy and moisturising, and the scrub has the perfect texture to really buff away dead skin without being too abrasive. The Smoothie Star (oatmeal and brown sugar/almond and honey), Orangeasm (super citrus) and Original Pink (sweet and floral) ranges are also mega delicious.
Super Facialist Salicylic Acid Anti Blemish Clay Mask and Rose Intense Moisture Mask – this specialist skincare range is one of the real gems of the UK drugstore in my opinion and everything I've tried from the line is great. I especially love these face masks; one for fighting oiliness and blocked pores, and one for boosting skin moisture levels and radiance. If this line was available in SA I would be tempted to chuck all my skincare away and just use this range – it's THAT good.
Botanics Rosewater Organic Toning Spritz – I can't remember how many of these I've bought over the years but it's a lot. It's a wonderfully simple product with a short, natural ingredients list: water, denatured alcohol (not enough to be drying), glycerin (which is a humectant), damask rose oil and citronellol (rose fragrance made from natural essential oils). I spray it on my face after I cleanse and it just helps to refresh, soothe and hydrate my skin before applying moisturiser. It smells heavenly and is a summer staple for sure.
Origins Clear Improvement Active Charcoal Mask to Clear Pores – I've never tried a purifying face mask that was more effective than this one. Similar to the action of a clay mask, this charcoal version draws impurities from the pores like a magnet and is simultaneously soothing, bringing down inflammation and calming redness. If you suffer from angry breakouts or congested skin, this is a must try.
Origins Drink Up Intensive Overnight Mask – another Drugstore Hall of Fame entry from Origins is this industrial strength hydrating mask. I use it regularly at home but I find it comes in most handy on long haul flights where my skin takes a beating from the recycled air. It plumps up fine lines, boosts the barrier function of the skin and generally leaves your face feeling really good and fresh.
Vichy Aqualia Thermal Dynamic Hydration Serum – I'm on my fourth bottle of this stuff ever since I discovered it via a recommendation from Sali Hughes. It's a very cooling, lightweight serum that sinks in easily, leaving the skin feeling fresh and plump. It also has a time-release function so that the complexion is kept hydrated over time, while strengthening its natural protective function.
Makeup
Maybelline Color Tattoo – although you can get this range in SA, the BEST colour in the line isn't available here for some reason. "On and On Bronze" (known as "Bad to the Bronze" in the US) is an incredible metallic cream eyeshadow that lasts forever on the lids without creasing.
Rimmel Wake Me Up Concealer – this has been my go-to concealer for a couple of years and I don't understand why you can't get it in SA. It's a light-reflecting concealer with medium coverage and it blends like a dream; it's not thick or dry at all (unlike Collection Lasting Perfection Concealer which I found way too heavy for my under-eye area. It is good for covering blemishes though).
Natural Collection Blushed Cheeks – the shade "Peach Melba" has been in my stash for years and I use it all the time! It's a great neutral, everyday, matte blush that performs way better than you would expect for the price.
Soap & Glory Archery Eyebrow Pencil – if you've always wanted to try Anastasia Brow Wiz but couldn't get hold of it, then give this product a go. It's basically identical (although the shade range is much smaller) and comes with a handy built-in spoolie for easy peasy brow grooming. I also buy this in multiples every time I visit the UK.
Rimmel Scandaleyes Waterproof Kohl Eyeliner – this is another range that is available in SA but not in Black or Nude (which makes no sense to me). The formula is creamy and super-pigmented, is easy to smudge and blend and then sets to a waterproof finish. The Nude eyeliner is also great for brightening up the lower waterline.
Soap & Glory Sexy Mother Pucker Gloss Stick – if you're looking for the perfect on-the-go daytime lip colour, then look no further than this small range of sheer tinted lip balms. The shade Nudist is my absolute favourite but Raplumzel is also a stunning winter lip colour that's super easy to apply and to wear. [Note: it looks like this product may have been re-packaged as this.]
Sleek MakeUp Face Form – another AMAZING beauty brand that was briefly available in Foschini but has since departed, Sleek makes some of the best affordable makeup around. One of the first things I bought from the range is this powder trio, comprising a great matte contour or bronzer shade, a shimmering champagne highlight and a super-pigmented peachy blush. It comes in four cleverly designed variants for different skin tones and the quality is fabulous.
Sleek MakeUp i-Divine Eyeshadow Palette – Sleek eyeshadow palettes are one of the standout products from the brand. There are loads of different colour combinations (this is "Storm"), from essential everyday nudes to moody smokey colours to crazy acid brights. Other great products from the brand include their Matte Me lip creams, powder blushes, Bronze Blocks, Luminous Pressed Powder and True Colour Lipsticks (check out Papaya Punch – swoon!).
Soap & Glory One Heck of a Blot – I could probably write a whole blog post on the S&G brand but I'll try to keep it brief. This powder is translucent and finely milled so it glides onto the skin without a trace and is great at helping to mattify a shiny t-zone. The packaging is sturdy and comes with an integrated mirror and sponge so it's a great product to keep in your bag.
Soap & Glory Solar Powder – I've swatched this bronzer a zillion times but I've never gotten around to buying it myself (only because I already have more bronzers than I could get through in a lifetime). The pan is divided into two smooth and blendable shades that can be used individually or swirled together. The tones are just right; not too dark, not too warm and not too sparkly.
Max Factor Creme Puff Blush – although this range is about to roll out in SA, there are a couple of shades that won't be available here, namely "Seductive Pink" and "Lavish Mauve". The formula is a close dupe for the Hourglass Ambient Lighting Blushes, giving the skin a luminous glow in a range of subtle colours.
Max Factor Miracle Touch Creamy Blush – one of the more inconspicuous products at the drugstore, this little pot of cream blush from Max Factor is actually a brilliant little everyday cheek colour. "Soft Pink" is a good, medium, rosy pink shade that looks fresh and pretty, and maintains its dewy finish once applied (it's not a cream-to-powder formula). A real hidden gem.
L'Oréal Lumi Magique Concealer – I've just finished up my first tube of this and I love it. It's very similar to my beloved Clinique Airbrush Concealer, giving light to medium coverage with a highlighting effect. I layer it on over corrector and blend it in with my Real Techniques Miracle Complexion Sponge for a flawless finish. It can also be used along the cheekbones and on the cupid's bow for a subtle illuminating effect.
Makeup Revolution Eyeshadow Palettes and Blush Palettes – Revolution is one of those brands that you might think is too cheap to be any good. But you would be wrong! Their eyeshadow and blush palettes are amazing, and insanely affordable – £8 for 32 eyeshadows! The formula isn't quite Urban Decay standard but it's perfectly good and for the price, you won't hear any complaints out of me. I particularly like the look of the Ultra 32 Shade Flawless Matte Eyeshadow Palette and the "Hot Spice" Ultra Blush Palette.
Hair
Charles Worthington Volume & Bounce Texturising Spray – what I like so much about this stuff is that it combines hair spray and texturising spray into one product. I always use both when I curl my hair to help hold the shape but this helps to cut down styling time and is really effective. You can spray it into the roots for a backcombed effect or into the mid-lengths for extra texture and volume.
Colab Dry Shampoo – Beauty blogger Ruth Crilly's range of affordable dry shampoos live up the hype in every way. The original formula is sheer and invisible so you get no chalky build-up plus the scents are to die for. They also make an Extreme Volume version (which does have a little residue so better for blondes I think) which gives the hair loads of texture and grip, and are launching a limited edition Hair Fragrance + Gloss this week. By the way, it's exclusive to Superdrug, Feel Unique and BeautyMart so you won't find it in Boots.
Nails
Leighton Denny Crystal Nail File – if you saw the blog post about my at-home manicure routine, then this will be familiar to you. I've had it for about five years now and it still works beautifully (which you would expect from something with a lifetime guarantee). The difference between this and a regular emery board is that the surface is smoother, finer and more durable which makes for quicker and less damaging filing. They help to seal the edge of the nail, minimise chipping and peeling, they last forever, and you can clean them so they're extra hygienic. I can't live without mine.
Barry M Gelly High Shine Nail Polishes – these super glossy "gel effect" nail polishes come in a rainbow of gorgeous colours but my favourites are Greenberry, Satsuma, Papaya and Grapefruit. The quality is great and they are extremely affordable. Models Own, Butter London, Ciaté, Orly and Seche are also good nail polish brands that are available at Boots.
Do you have any good suggestions to add to the list? Also, let me know if you would like to see a high end version of this list.