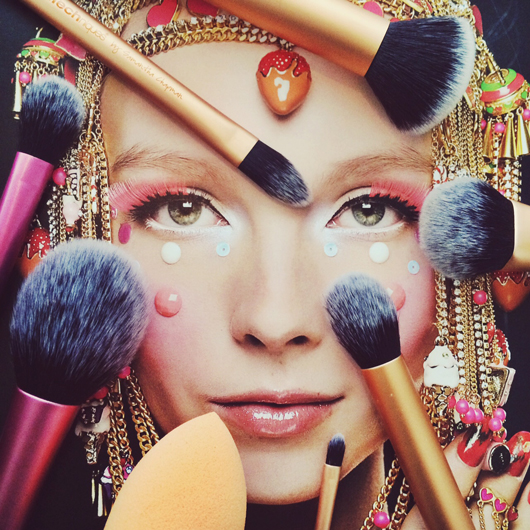 In case you've been hiding under a rock for the past couple of months, you might not be aware that Real Techniques makeup tools have FINALLY launched in South Africa! *cheers* This news brings us great happiness and we are sure it is the same for many of you. But which ones do you need? Well, here's a breakdown of my favourite five brushes from the brand to get you started:
Blush Brush
I think this was one of the first Real Techniques brushes I ever bought, and it's probably the one I recommend most often to other people. It's the perfect brush for all kinds of powders but especially blush and bronzer. The head is soft and fluffy but with enough bristles to deposit the ideal amount of pigment onto the skin, while the tapered shape makes application and blending a dream.
Price: R170 (buy on Takealot.com)
Miracle Complexion Sponge
BeautyBlender fans like me who love the effect it gives but find the price of continually replacing them a bit difficult to stomach, will love the RT version. Designed to be used damp, the sponge is ideal for seamlessly applying and blending in foundation although this can be a little time-consuming (I prefer a foundation buffing brush day-to-day). I use it for blending in my concealer because it makes you skin look completely airbrushed and flawless, and it keeps my fingers clean which saves me a bit of time and hassle. If you're wondering, I find the best way to clean the sponge without damaging it is to soak it in hot, soapy water for a little while and then gently squeeze it a few times to dislodge the makeup. Rinse it under running water and you're done!
Price: R120 (buy on Takealot.com)
Core Collection
Ok I'm slightly cheating here; this kit has four brushes in it, although you can't buy them individually. The star of the show is of course the Buffing Brush which is the best foundation brush in the world. It was created to be used with mineral and powder foundation but it happens to be excellent at blending liquid and cream formulas too. The finish is perfect and natural-looking every time and I would happily buy the kit for this brush alone.
The Detailer Brush doesn't look like much but it's great for applying your inner-corner and browbone highlight (which is how I use it most often), covering blemishes and as a lip brush. The Contour Brush does what it says on the tin and is also great for applying foundation, blush, powder and bronzer (major multi-tasking brownie points!). The Pointed Foundation Brush doesn't get much action but I do use it sometimes to apply concealer, especially if I'm putting a lot on e.g. when I'm contouring.
Price: R450 (buy on LifeRetreat.co.za)
Setting Brush
There is a misconception that the best kind of powder brushes are big and fluffy but this makes them invariably too large for precision placement which is really what you should be aiming for. For the most natural-looking complexion that is glowing but matte in all the right places, you need something a little smaller and more tapered. The RT Setting Brush is the perfect size and shape for dotting powder over and around your nose, in the middle of your forehead and your chin which are most people's most shiny zones. Incidentally, I get the best results from tapping the brush over the skin rather than dusting or swirling the powder on as this makes it more long-lasting and doesn't disturb the makeup underneath.
Price: R100 (buy on Takealot.com)
Expert Face Brush
This is another great multi-tasking tool from the brand. Designed as a foundation brush, the domed bristles are densely packed to help give extra coverage and blend liquid, cream and powder foundations perfectly. The oval shape also makes it ideal as a contour or bronzing brush and I use it regularly with my Chanel Tan de Soleil. It's bigger than "traditional" contouring brushes but I prefer this as it's easier to get a soft, natural effect. The Kardashian-style super sharp contour is not my personal taste; I think it looks much better in real life if it's subtle.
Price: R160 (buy on Takealot.com)
Real Techniques brushes and tools are available from Clicks (still being rolled out), Takelot.com and selected Foschini stores.