I recently attended the exclusive preview of the new Elizabeth Arden fragrance, UNTOLD ABSOLU, the latest addition to the UNTOLD family of fragrances. The event was glamorous and refined, and, I think, captured the essence of the fragrance perfectly. We were treated to a delicious 5 course meal inspired by the five different facets of the fragrance: glamorous, captivating, refined, mysterious and sensual.
The fragrance itself is rich and warm, and contains touches of Black Raspberry, Italian Bergamot, Red Plum and Ginger. It is billed as "a sensual expression of the original fragrance" and was inspired by the sensual, captivating side of the modern day, multi-faceted woman. I have not tried the original UNTOLD, so I can't compare the two I'm afraid – but the consensus amongst those in attendance was that they preferred UNTOLD ABSOLU to the original UNTOLD.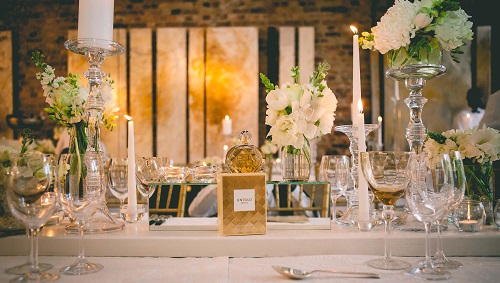 I was lucky enough to attend the event with my lovely friend Tori from Kiss, Blush and Tell, and we spent the evening enjoying the delicious food and wine and catching up on all things beauty (every time I see that girl my wish-list gets longer and longer).
Two weeks after the event, I received a specially engraved bottle of UNTOLD ABSOLU – such a special, thoughtful treat! I have really enjoyed using it, especially for evenings out – I've had nothing but compliments each time I've worn it!
Thank you to Elizabeth Arden for hosting such a beautiful event.
UNTOLD ABSOLU will be available at selected Elizabeth Arden counters in Edgars, Foschini, Truworths and Woolworths, from 20 October 2014 and retails for R920.00 for 100 ml, R720.00 for 50 ml and R520.00 for 30 ml.